I've gotta admit something right now- all the Iron Man movies kind of blend together in my memory. It doesn't help that I watched movies 1 and 2 in the same day, so I kept thinking things that happened in one actually happened in the other one. That being said, I really went into this one not really knowing what happened. I was pleasantly surprised, and I'm actually excited to watch the 3rd one!
I'd also like to apologize in advance for the formatting on this post. I can't figure out why the image won't shrink down like every other post I've made, so I'm sorry!
About The Movie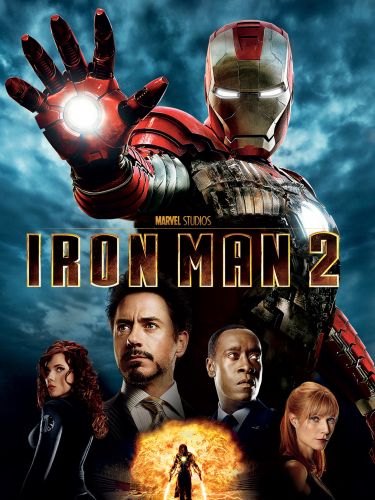 Iron Man 2, released May 7th, 2010 and directed by John Favreau. Rated PG-13.
Official Synopsis: With the world now aware that he is Iron Man, billionaire inventor Tony Stark (Robert Downey Jr.) faces pressure from all sides to share his technology with the military. He is reluctant to divulge the secrets of his armored suit, fearing the information will fall into the wrong hands. With Pepper Potts (Gwyneth Paltrow) and "Rhodey" Rhodes (Don Cheadle) by his side, Tony must forge new alliances and confront a powerful new enemy.
Trigger Warnings: public shooting, car crash, images of men hanging from their necks, alcoholism.
Notable Cast: Robert Downey Jr., Gwyneth Paltrow, Jon Favreau, Scarlett Johansson, Mickey Rourke, Sam Rockwell, Don Cheadle, Samuel L. Jackson, CLark Gregg, Paul Bettany, and Leslie Bibb.
Plot & Characters
I feel like the plot was broken up into 3 sections. Whiplash/Justin Hammer, his Arc Reactor problems, and his problems with Pepper and Rhodes. Honestly, the Arc Reactor thing felt kind of unnecessary, but the subplot of Stark's issues with Pepper and Rhodey were great for the drama and his character development while his beef with Whiplash didn't make much sense (although I thought he was a good villain, I just didn't understand his origin story) and Hammer's agenda was obviously political.
This movie brings into play one of my biggest pet peeves against Iron Man: Stark having his designs always easily replicable. In almost every Iron Man movie and Avenger movie, the bad guy is able to get under the team's skin or one-up them because they've used some form of Stark Technology. He claims to want to be a protector, but he does almost nothing to stop his designs from getting into the wrong hands.
His snark in the movie was great, and the dialogue is one of my favorite aspects of the Tony Stark character. Especially with Pepper and Fury.
Favorite Moments
I really enjoyed the segment of scenes when Tony Stark is on lockdown in his house with Coulson as his babysitter and leaves Tony to go through that box of his father's things and then he discovered the cure for his arc reactor problems and creates a new element (which is S.H.I.E.L.D already knew about, why didn't they build??)
I also was so excited to hear about Coulson being reassigned to New Mexico, and that end credit scene!!!!! Thor is one of my favorite characters and I can't wait to watch those movies again (and see how the second Thor movie ties in to Agents of S.H.I.E.L.D!!)Least Favorite Moments
I don't like seeing friends fight or watch people make fools of themselves, so the birthday party scene was my least favorite. I also just wasn't a big fan of the final fight?? It felt like it took 5 minutes when it had been hyped up the whole movie that the bad guy had been updating his weapons the whole time.
One last favorite moment was in the first half of the movie. I am a sucker for a car chase scene, so having that fight take place on the racetrack on the beautiful Italian coast was pretty epic to watch.
Acting
Once again, Robert Downey Jr. and Gwyneth Paltrow knocked it out of the park, but Scarlett Johansson and Mickey Rourke were pretty good in this as well! Robert's portrayal of Tony as he suffers through his depression, PTSD, a breakup (not romantically, although there are hints of a romance there), resentment, and more happy things such as when he's in his workshop inventing new elements (nbd) was pretty incredible. Gwyneth once again did Pepper justice, and seeing my favorite trio of babysitters for Stark AKA "Natalia", Coulson, and Fury was amazing.
Score & Soundtrack
I honestly felt let down a bit by the score and soundtrack of this one compared to the first movie. It kind of felt a bit lackluster.
Rewatch?
I wouldn't mind rewatching this one, I won't lie. It had some great bits and I loved seeing Black Widow's first on-screen appearences.
I certainly liked this movie better than the first one, but it still wasn't one of the greatest actions movies I've ever seen. I am excited for the next movie on my watch list witch is The Incredible Hulk. I've never seen it before and i know next to nothing about Bruce Banner's origin so I'm actually pretty excited, even knowing that it doesn't have a very good rating.