Hey, and welcome to a new review! Today's review isn't a book I would normally review, but I think if you're like me and are a shy book nerd, this book could help you considerably. I know it has help me! The author, Joy Jones, sent me the book to review and I'm very thankful that she did. I am definitely passing this on to my younger sister and friends!
Fearless Public Speaking: A Guide For Beginners by Joy Jones, published May 7th, 2019 by SparkNotes. Recommended reading age is Any!
Official Synopsis:
Scared of speaking in public? You're not alone! This accessible guide, written by a former teacher and poetry slam coach, will help tweens and teens find their voice!

If you have weak, wobbly knees and a pounding heart when you face an audience—don't worry, that's good! Joy Jones is here to show teens and tweens that stage fright is your friend. With its funny, friendly, slightly irreverent approach, Fearless Public Speaking helps young people feel more comfortable and confident in front of a crowd. Jones covers it all, from how to write and organize your speech, to how to deliver it and use audiovisual equipment, to how to troubleshoot when things go wrong.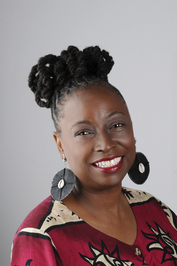 Joy Jones has taught creative writing and public speaking to middle school students and coached poetry slam teams. She is the author of Private Lessons: A Book of Meditations for Teachers and a contributor to the anthology Days I moved Through Ordinary Sounds: The Teachers of WritersCorps in Poetry and Prose. Joy is the director of The Spoken Word, a performance poetry ensemble. She lives in Washington D.C.
Normally on my blog, I review Young Adult and Middle Grade books, with the occasional dip into Adult books; but when Joy sent me this copy to review, I knew it would be going here because it is helpful. As you may already be aware, I was homeschooled since 4th grade so I didn't really do a lot of public speaking. I did prepare papers and speeches for my family, and I remember doing a research paper or two in 4th grade for the class, but that was way before my fear of public speaking became A Thing I had to deal with.
I think anyone who wants to improve how they talk should give this book a read. It teaches yourself how to be confidant in your words, how to project yourself, how to feel comfortable when speaking publicly, and much more. This book covers stage fright, what to do when you make a mistake, how to write and correct your speech, and even how to be a good listener while someone else is taking the stage!
Personally, the part that helps me the most out of this book is the 'Speaking Off The Cuff' chapter. In my day to day life, I may not always need it, but at my job (I work at Barnes & Noble as a bookseller) sometimes I need to come up with a quick pitch for selling a book to a customer! I know that this book has lots going on, but how can I sum up this book in a few words that will really grab their attention? Now I know!
One thing I really liked about this book was that it's not all reading. There are portions of the book that require your participation, such as improving the grammar or verbiage of a sentence, or practicing your speaking. Involving a person is the best way to get them to learn, and Joy knew what she was doing when she wrote this book.
Overall, this book can be helpful for a grade schooler doing their report on an endangered species or a college student who is about to give a speech at graduation! You can also use these practices in your everyday life like I do!
Thank you so much to Joy for sending me a copy of her book, and to you guys for reading my review! Go speak proudly!