Watching cheesy crime shows is a beloved past time between my mom, my twin sister, and I. We watch all sorts of shows ranging from Hawaii 5-0 (my mom's favorite) and MacGyver to Perry Mason and Alice; but one of our collective favorite thing to watch is NCIS: DC (and occasionally, NCIS: NOLA & NCIS: LA). After the Season 16 finale of NCIS: DC, I decided to binge the first 15 seasons on Netflix. It has been a crime filled summer.
(Side track: I bought a bad, cheap bath bomb that made me start choking from the scent/fumes and my first thought, after watching hours of NCIS all day long, was that I was being poisoned and that I better get out and get dressed because I did not want to be found naked and dead. I then took the half dissolved bath bmb out and threw it away because I thought "If I am being poisoned, someone can test the bath bomb for traces like Abby would." When in doubt, WWAD? In my defense, it was late, and like I mentioned before, I had been watching a LOT of NCIS) Okay, back to the tag.
But watching all of this NCIS got me thinking. I'd love to create a book tag featuring the main characters throughout the seasons! The characters are what keep me watching this show, and every time someone leaves the show I get sad; but knowing who is coming next makes me so happy! Let's get into it.
Rules:
Tag your source! If you were tagged, tag whomever tagged you in your response to this tag so they can see your answers!
Tag someone, tag no one! As long as you have fun, that's all that matters 😀
Be kind! It's all fun and games until someone gets hurt. Please be nice to each other, the person tagged, etc. I can't see how this could go bad, but it's better to be safe rather than sorry.
The Tag:
1. Special Agent Leroy Jethro Gibbs: Best Group Leader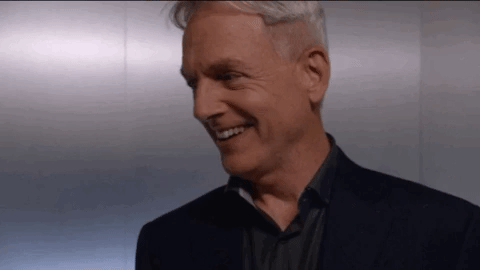 Gibbs is the team leader and one of the original main characters still left from the beginning of the show, and not a lot has changed with him since season 1. For the Best Group Leader, I would have to choose Rhysand from Sarah J. Maas' A Court of Thorns and Roses trilogy. He is the ringleader who is always one step ahead of everyone, and is definitely the one in charge around here.
2. Dr. "Ducky" Mallard: Best Healer/ Doctor
Ducky is the Medical Examiner for NCIS, and an integral part of the team! He is knowledgeable in more than just doctoral science; he traveled the world and knows so much about everything! For the best healer/doctor, I choose Nadya from Wicked Saints by Emily Duncan! She has the gods helping her out, but most of the healing she does is on her own. She is pretty great.
3. Dr. Jimmy Palmer: Best nerd/Teachers Pet
Dr. Palmer is always trying to please Ducky or Gibbs, and always getting himself into awkward conversations. He is kinda the epitome of putting your foot in your mouth. The best character that fits this description is Alec Lightwood from Cassandra Clare's Shadowhuter world. Alec is almost always fumbling, but when he's not, he is doing a damn good job at whatever he is working on, just like Alec.
4. Director Leon Vance: Best Parent Figure
Leon Vance is the top dog at NCIS, which means he in charge of Gibbs' team. Sometimes, the team disobeys him and he becomes the most disappointed dad in the world. Angry, but not surprised. There is only one character that comes to mind when I think of dad figure: Rickard Gansey the 3rd from Maggie Stiefvater's The Raven Cycle. I mean, c'mon. He wears boat shoes by choice. Only a dad does that.
5. Abby Sciuto: Best Scientist and/or Goth
Abby is the resident lab technician and forensic scientist. If you give something to her, she can tell you it's entire life. Where it was made, by who, how long ago, who has owned it, who has touched it, where it has been, and so much more. She is also a major got. Her bed is a literal coffin. She constantly looks like she has dressed up for Halloween. I love her. A character that would be these is Ella Malikov from the second book in The Illuminae Files, Gemina by Amie Kaufman & Jay Kristoff. She is a computer whiz and also survives on caffeine while wearing a lot of black.
6. Special Agent Kate Todd: Character who left one group to join another
In the inaugural episode of NCIS, Gibbs has to solve the mystery of a murder onboard Air Force One, the President of the United States' plane. While there, he solves the case with Secret Service agent Kate Todd. When the case is over and the plane safely back on the ground, Gibbs offers her a job and she takes him up on it. She was only a part of the show for 2 seasons, but she is still one of my favorite characters.
To me, a character that best fits this bill is Aaron Warner Anderson from Tahereh Mafi's Shatter Me series. When we first meet Warner, he is the bad guy. In fact, we're not entirely sure he is on our side until book 2/3. I'll admit, I wasn't his biggest fan at first. I downright hated him in books one and two as a love interest but as I've read the series, I've come to appreciate him as a love interest.
7. Special Agent Timothy McGee: Best Hacker/Computer Person
McGee has been a part of NCIS since around season 2, I believe? I am pretty sure he became a full time member in season 3. He was so naive and dorky back then. Now he is a bad-ass computer hacker dork. And father of twins! (#yaytwins) A character that I think most embodies McGee is Simon Lewis Lovelace from Cassandra Clare's Shadowhunter chronicles. When you first meet Simon, he is a total nerd and has no Shadowhunter knowledge or strength whatsoever. By the end of the series, he has saved the lives of multiple people numerous times and is very smart when it comes to all things Shadowhunter.
8. Special Agent Anthony DiNozzo Jr.: Best Playboy/Smart-ass
Tony is one of my favorite characters. Filled with movie trivia and his love for women, he is also a dedicated agent and not shy about it. Yeah, he can be pretty annoying sometimes but deep down he is a very emotional guy. He may crack a lot of ill times jokes about his boss, but he loves his job and what he does.
I think the perfect character for this is Jesper Fahey from Leigh Bardugo's Six of Crows duology. Jesper is totally confidant in his abilities, doesn't hesitate to make fun of the probationary members of the team, and is a very "hear of his sleeve" kind of guy. He also appreciates hot people. It has caused him some trouble, just like Tony, but lucky for Jesper, Gibbs' rule about dating co-workes does not apply here.
9. Mossad Liaison/Special Agent Ziva David: Best Kick-Ass/Talented Person
Ziva is incredible. When you first meet her, you are unsure on weather she can be trusted. It took me a few seasons to decide if I really liked and trusted, but I really liked her. Yeah, she could be unreasonable at times but she was a great addition to the team. As a Mossad liaison for NCIS, she was trained in numerous forms of combat, languages and more. She is uber talented, and such a bad-ass who isn't great at American idioms LOL. A character I feel best resembles Ziva is Mia from Jay Kristoff's Nevernight series. Trained to kill and super talented, I couldn't have picked a more well suited character for this prompt.
10. Special Agent Ellie Bishop: Best Foodie/Hardest Worker
Ellie Bishop is one of my favorite characters. She is a messy thinker who thrives in organized chaos. She also remembers almost everything she reads, especially by associating it with food. A girl from my own dreams, tbh. You know who she reminds me of? Lola from Stephanie Perkins' Lola & The Boy Next Door. Always working on a new project, going above and beyond, and eating pie (her fathers' business is a pie company!) Lola is a great character.
11. Special Agent Nick Torres: Best at Undercover Work/Trickery
Agent Torres spent the past decade before joining NCIS as an undercover agent. He has a tendency to be a smart ass and he is not great with his emotions, but he certainly knows how to get the job done. I think a character that is very similar to Torres is Carswell Thorne from Marissa Meyer's Lunar Chronicles. He hides behind a wise guy resolve, and he went undercover in Cress and in Winter! He also cares deeply for a special blonde in his life, (ahem *Bishop/Cress parallel* ahem) and is good at what he does.
Fun Fact: Wilmer Valderrama, who plays Torres, also voiced Handy Manny! It was quite the shock to watch TV and hear Handy Manny, but see him with a gun.
12. Special Agent Jacqueline "Jack" Sloan: Best Analyst/Shoulder to Lean on
Jack is a more recent addition to the NCIS team, but she is still a good member of the team. She is very smart, super intuitive and a fantastic listener and advice giver. I think Maeve from Karen McManus' One Of Us Is Lying (and sequel, One Of Us Is Next out 2020!) is very similar. While there is quite an age difference, they are very close in smartness and the way they are always willing to be an ear to listen and a shoulder to cry on.
13. MI6 Special Agent Clayton "Clay" Reeves: Best Newcomer/Foreign Agent
Clay is a MI6 agent from Britain at NCIS as a Liaison Officer that helps out with cases stateside. He volunteered at a homeless vets and children's shelter, went to AA meetings, and helped anyone who looked like they were even struggling remotely. I think a good representation of Clay would be Harper of Disi from Brigid Kemmerer's A Curse So Dark & Lonely trilogy. Harper is automatically drawn to helping characters through out the book, and comes from our world to a new fictional world to help break a curse. She brings food from the castle to neighboring villages, she pretends to be a princess from a foreign land to help Prince Rhen and Commander Grey forge an alliance, and cares deeply about doing the right thing.
The End!
And that's it! Here is an NCIS tag for those whose fandoms overlap into the book world! I have a few people who I would normally tag for a book tag, but since I'm unsure if anyone has watched NCIS, I will just let you guys choose to do this if you want to!
I can't wait to see who everyone picks! What agent are you most similar to? Who do you wish you were? Tell me in the comments! I have binged almost all of what Netflix has to offer, and I'd love to talk to someone about the show!
<—- Me waiting for others to do this tag