Amie and Jay blew me away with their Illuminae Files trilogy. Each book and every page was heart pounding, exciting, badass and funny. I had high expectations for Aurora Rising and they did not let me down. I pre-ordered it months and months ago and it arrived on May 7th, the day it was published. I read it that evening and it was a blast. It had laugh out loud moments, kick ass characters, a fun plot and cool space elves. Aurora Rising was E P I C. Let's talk about it.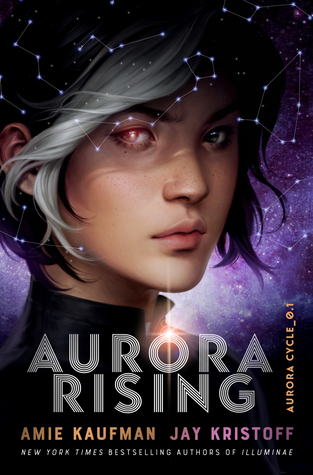 Aurora Rising (Book #1 in the Aurora Cycle) by Amie Kaufman and Jay Kristoff, published May 7th, 2019 by Knopf Books for Young Readers. Recommended reading age is 13+.
Official Synopsis:
The year is 2380, and the graduating cadets of Aurora Academy are being assigned their first missions. Star pupil Tyler Jones is ready to recruit the squad of his dreams, but his own boneheaded heroism sees him stuck with the dregs nobody else in the Academy would touch…
A cocky diplomat with a black belt in sarcasm
A sociopath scientist with a fondness for shooting her bunkmates
A smart-ass techwiz with the galaxy's biggest chip on his shoulder
An alien warrior with anger management issues
A tomboy pilot who's totally not into him, in case you were wondering
And Ty's squad isn't even his biggest problem—that'd be Aurora Jie-Lin O'Malley, the girl he's just rescued from interdimensional space. Trapped in cryo-sleep for two centuries, Auri is a girl out of time and out of her depth. But she could be the catalyst that starts a war millions of years in the making, and Tyler's squad of losers, discipline-cases and misfits might just be the last hope for the entire galaxy.
They're not the heroes we deserve. They're just the ones we could find. Nobody panic.
Jay Kristoff is the #1 international, New York Times and USA Today bestselling author of THE NEVERNIGHT CHRONICLE, THE ILLUMINAE FILES and THE LOTUS WAR. He is the winner of five Aurealis Awards, an ABIA, has over half a million books in print and is published in over thirty five countries, most of which he has never visited. He is as surprised about all of this as you are. He is 6'7 and has approximately 12,000 days to live.
He does not believe in happy endings.
Amie Kaufman is a New York Times and internationally bestselling author of young adult fiction. Her multi-award winning work is slated for publication in over 30 countries, and is in development for film and TV. Raised in Australia and occasionally Ireland, Amie has degrees in history, literature, law and conflict resolution. She lives in Melbourne with her husband, their rescue dog, and an extremely large personal library.
You can sign up for her newsletter to see what she's working on, hear when she releases a new book, and be automatically entered for giveaways: www.eepurl.com/6Ya8j
Wow, this book! I have never been hooked on a book so fast! I loved every character, the plot, the humor, everything. I red the physical copy of the book and decided to try the audio book and the audio was amazing. I am not an audio book person, but the cast was incredible. I'm going to go down the cast of characters and tell you my thoughts on them, and then talk a bit about the plot.
Characters:
I loved Aurora. I completely sympathize with her situation and I loved hearing how she could pitch in, but at the same time being taken over by that…thing. I think she is a pretty badass character while still having her soft moments, and I admire that our heroine/MC can still be tender with out being written as hardcore. She cries, cares for her friends, wishes this wasn't happening to her, and it's real. Relatable. That's how I would act if I were her.
Scarlett was pretty amazing. As I've mentioned before, I'm trying to read as many YA books featuring twins as possible to see which have good representation, AKA which ones don't kill or hurt one half of the twin to further the plot of the other twin. Scarlett has a twin brother (who I'll be talking about next) and they are awesome. The only thing I found unrealistic about them was the fact that she constantly calls Tyler "Ty" Brother or some variation of it. I cannot think of one sibling relationship in real life where one calls their sibling "sister" or "brother". Anyways, about Scarlett.
Scarlett is spectacular. She is a badass, and she can kick your ass while wearing heels as well. She is astoundingly smart, quick witted and cares about her friends more than herself. It also doesn't hurt that she is a twin AND a redhead?
Ty was an awesome leader for this group. He has a steady head on his shoulders, is confidant in his team mates, to the point of trusting some of them with his life after knowing them for less than 24 hours. Sorry, but I couldn't do that. (I guess I'm not very trusting) He had an interesting will-they-won't-they with Cat, and at times I even wondered if he might be interested in Auri. He is smart, trusting and fearless; which happen to be great qualities in a leader.
Cat was either one of my favorites or one of my least favorites. She was cocky and sarcastic to a fault, and was at times almost unbearable but at other times, I loved her humor and quick comebacks to Finnian. She is an Ace pilot (pun intended), someone who prefers to think with her head rather than her heart, and someone who doesn't trust easily. That makes her a good counter part to Ty, and a valuable second in command.
Finnian is the comic relief and mechanic in this party. He hides his hurt and distrust behind jokes, he likes to break the ice in awkward situations, and he is willing to take one for the team (even if it means owing his cousin some hefty favors). I would love to learn more about his family and his backstory in upcoming books! I think Fin is a great character.
Kal is the so described "hot space elf". I think he is pretty overrated, but at times he was pretty fun to read! I am not a huge fan of the whole 'mates' trope, but I liked how he gave Auri the option to be with him, and if she decided no, then he would leave her alone no matter how he still felt.
I would love to see more about Kal's species and breeds. We only got to really learn first hand about War Breeds, which is what Kal is, but I'd like to see other breeds in future installments!
Finally, you have the scientist Zila! She is the one we know least about, as she is very reserved but from what we do know about her, we know she is crazy smart, doesn't really get people, and loves shooting people with stun guns. I adore her. She better get a bigger arc in this series or I'm suing.
Plot:
I loved the mash up of girl out of time meets space heist! I think combining two of my favorite tropes was epic, and having Amie and Jay do it feels like the only right option. One of my favorite parts was whenever the whole gang was together, and especially the actual heist. I loved the final fight so much! Team work! Staged fights! Anti-gravity! Masquerade balls!
There wasn't a thing I didn't love about this book, and that's one of the reasons I listened to the audio book so soon after finishing the book initially. Both versions were mind blowing and I kind of want to read this again… I cannot wait until the sequel comes out, but until then, we have Jay and Amie's other series! Jay has 2 more books coming out in 2019 (Deviate and Darkdawn), while Amie just wrapped up her Unearthed duology with Meagan Spooner and is working on a new series with her, not to mention her Ice Wolves series!
Have you read Aurora Rising? What did you think?