Welcome to today's tour stop of the Fantastic Flying Book Club Blog Tour for We Were Beautiful by Heather Hepler! I was so lucky to have been chosen as a host and an early reader of this book, and I can't wait to share my thoughts with you!
Stick around 'till the end for a link to a giveaway for a chance to win a finished hardback copy of We Were Beautiful!
April 22
That Artsy Reader Girl – Welcome Interview with Heather Hepler
April 23
Wishful Endings
Creative Post Journal of the Lost One
Books4Jessica
Clarissa Reads It All
April 24
Bookish Geek
Book-Keeping
Moonlight Rendezvous
Betwixt the Pages
April 25
Musings of a (Book) Girl
We Live and Breathe Books
The Reading Corner for All
Young Adult Media Consumer
April 26
Fangirl Fury
Lisa Loves Literature
Bookish_Kali
Nay's Pink Bookshelf
Rhythmicbooktrovert
April 27
Confessions of a YA Reader
The Book Duchesses
Colleen's Conclusions
Here's to Happy Endings
April 28
Singer of Stories
the bookdragon
Cheyenne Reads
Amy's Booket List
April 29
Kait Plus Books
Between the Pages
Some Books & Rambling
Geronimo Reads
I was born in Kalamazoo, Michigan, which I think is one of the cooler places to be born, because initially people think I'm being funny—like I'm saying I was born on the moon, but then they see I'm actually being serious. It feels like since then I've lived nearly everywhere (well, only in the US—which is a bummer because I want to travel so much). In high school, I was in band and honors society and science club and worked on the school newspaper. All this in Texas where football was king and cheerleaders were the school royalty. When people ask me what I remember about middle school and high school, I stand there for several seconds not saying anything. This isn't because I can't remember anything, but because I remember too many things and I can't figure out what to say out loud.

I spent the first part of college in Alaska, which was amazing. The first time I saw Northern Lights, I thought I was imagining it. I just couldn't get my head around the idea that something so beautiful existed in the real world. That's when I first started writing. This was my bad poetry phase. I think it was the combination of living there with long very cold winters and being in love with a guy that barely knew I existed that made me do it. People ask me all the time if I write poetry. I wish I could and maybe I will someday, but for now I am firmly a fiction writer.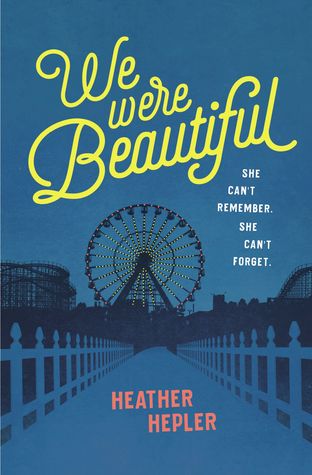 We Were Beautiful by Heather Hepler, Published April 2nd, 2019 by BLINK
Genres: Young Adult Fiction — Contemporary
Official Synopsis:
It's been a year since fifteen-year-old Mia Hopkins was in the car crash that killed her older sister and left her terribly scarred. The doctors tell her she was lucky to survive. Her therapist says it will take time to heal. The police reports claim there were trace amounts of alcohol in her bloodstream. But no matter how much she tries to reconstruct the events of that fateful night, Mia's memory is spotty at best. She's left with accusations, rumors, and guilt so powerful it could consume her.
As the rest of Mia's family struggles with their own grief, Mia is sent to New York City to spend the summer with a grandmother she's never met. All Mia wants to do is hide from the world, but instead she's stuck with a summer job in the bustling kitchens of the cafe down the street. There she meets Fig–blue-haired, friendly, and vivacious–who takes Mia under her wing. As Mia gets to know Fig and her friends–including Cooper, the artistic boy who is always on Mia's mind–she realizes that she's not the only one with a painful past.
Over the summer, Mia begins to learn that redemption isn't as impossible as she once thought, but her scars inside run deep and aren't nearly so simple to heal … especially when Mia finally pieces together her memories of the night Rachel died.
This book was very good! It evoked quite a few different emotions in me. Belonging, homesickness, loneliness, creativity, joy and love. When you step back and look at the plot of this story it seems pretty depressing, and it is, but it is also about finding a home within friends, exploring a new city, and getting to know relatives again. After reading this book, one saying keeps popping into my head.
The blood of the convent is thicker than the water of the womb.

meaning that the friends we make along the way can have stronger ties with us sometimes than even our bond with our own families
I feel like that represents the journey Mia goes through pretty well. The book starts months after an accident that left Mia's sister dead and Mia horribly scarred. Her mother left her family as a result of this accident, actually giving up parental rights and becoming a nun across the country. Mia's father becomes distant and has Mia shipped off to her grandmother's (whom she has never met) home in New York City. This is a summer of new beginnings for Mia.
I really enjoyed reading this book. I flew through it in one afternoon and literally enjoyed every part of it. Mia's depression and anxiety came off as so real and I appreciate that. You don't often get such accurate depictions of anxiety attacks and how triggers work. Maybe I'm just not reading the right books, but I don't see that very much in YA.
One of my favorite aspects of this book was all of the art. Fig (Mia's friend and coworker) takes Mia to her group of friends who host Art Attacks on the streets of New York City. They do elaborate sidewalk chalk pieces, have interactive installations where people on the streets take their shoes off and walk on a canvas with paint on their feet, Eating food upside down without spilling it, and many more things! Mia's chosen medium is photography. If you've been reading my blog for awhile, you know that I am kind of in love with photography. I especially love reading about it in books. It always seems so magical to me. I love reading about how character want to capture that specific moment in time. Ever since I read Letters To The Lost by Brigid Kemmerer, I can't stop looking at things and wishing I could capture that moment forever. Maybe one day I'll work up the nerve to start really looking into photography, but for now I'll just keep using my phone and posting pictures on Instagram.
Another really fun art medium was mosaics and paint chips! Conner has Mia helping him create a life sized mosaic at a small restaurant where Conner stays. It was really cool to hear them talk about the different colors and how everything was coming together, the patterns they were using and the bonding that happened between them. It was very sweet.
I adored the Art Attack group. Sarah, Sebastian, Fig, and Conner were awesome. They were all so unique and fun, with a decent amount of backstory! They weren't just side characters there to support Mia, they we a part of Mia's story. Mia's full story would not have come out if it weren't for them. They were vital. Tbh so were the dogs. If you know you know.
I loved seeing all of the friends supporting one another. Everyone came to see Sebastian at his hot dog eating contest, everyone came to Brunelli's on Cannoli day, and everyone went and saw Sarah perform at open mic night. I loved that the title came from Sarah's song. But I would also really love to hear Sarah's song. You don't get to tell the readers that it was a gorgeous and lyrical song that had everyone crying but not give it to us.
Speaking of not giving us things, I need those Whoopie Pic and Cannoli recipes! They were such a major part of the book and I would love to replicate them! I love baking and I love reading, so if I had a recipe to bake from a book how cool would that be?!? (Can Mary Weber's Book Club work on that?? Asking for a friend…)
One of the best things about this book is that the characters make the book, not the plot. The plot is pretty typical and it seems there are a few books about memory loss and bad accidents so the protagonist has to move, but what makes this book unique is the characters. We already talked about the core friend group, but then you have Mia's grandmother and father and you have Simon and the Brunelli clan. Each character seemed fully fleshed out no matter how small their roll in this book was, and I really loved that. I also adored the cover. It's so simple but speaks volumes about the "aesthetic and ambiance" of the book. I also really love the font?? Idk that's just something small I keep thinking about and I can't wait to try making a wax portrait of this cover.
Okay, now that I'm done raving about how good this book is I want to talk about some things that bothered me about this book. If you recall, I mentioned there wasn't a thing I didn't like about this book which is true, but I felt We Were Beautiful was lacking in some areas.
I would've liked to had more closure between Mia and her parents. The reconciliation between Mia and her father seemed …. not forced, but not natural either. Like there wasn't enough tension between them for a good resolution. It also would've been nice for something more than literally one phone call from her mother. Mia has to be feeling a lot of things, and the small part at the beginning when she mentioned she had been going to therapy after her accident was nice, but I wish Mia had gone to therapy in this book and that's where we unraveled all her anger and guilt and memories of that fateful night. That would have been a good addition to this book. Or maybe have Mia on some sort of meds? You don't get into that horrific of a wreck and not be on meds less than a year later, for anxiety or pain otherwise. That was the only unrealistic thing I had an issue with in this book. Everything else was great and I would recommend this to anyone looking for a summertime book that deals with grief and guilt, tight friendships, New York City, art, and vague mysteries.
Enter through the Rafflecopter link to get the chance to win one of five copies of We Were Beautiful by Heather Hepler! (US only, from 4/22/19-5/1/19)
http://www.rafflecopter.com/rafl/display/d9681b86358/?
Thank you Fantastic Flying Book Club, Netgalley and Heather Hepler for giving me the opportunity to read this book early and participate in this blog tour! I had a blast and I can't wait to read everyone else's posts!
-Sam