A while back, a friend texted me asking for some good books for a book club she was starting with a few friends, ages ranging from 16 to 22. She said there were no restrictions and no genre requests, they all just wanted something diverse for their group and were open to anything. So I compiled a list of genres and added two books per genre as some suggestions, and then I had the epiphany of "Oh! This would be a great blog post!" So here I am.
These will be listed by genre and not in any specific order. However, these are all favorites of mine so there is some bias in terms of how good I think they are and how highly I'd recommend them. If there are any trigger warning I think should be mentioned, I'll try to add them!
Just a note before we get started, these are all in the Young Adult/New Adult categories. They are all kid friendly in terms of explicit or graphic scenes, but there is swearing in a majority of these books. I believe adults can read these and will enjoy them immensely, but if you're looking for something more mature in terms of content then this list won't be for you.
I will link each title to their Goodreads page so you can look into each book further should you choose to!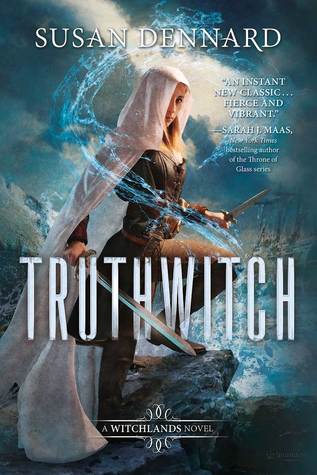 This book is a complex world filled with skilled world building, great characters who have lots of growth over the series, and a fantastic set of plots. Told from multiple Points Of View (POVs) , you can really fell the tension each character is feeling. This series is diverse racially and sexuality wise, so give it a shot! These books also have a fantastic slow burn romance or two AND enemies to lovers for characters in this series and it's really fun to read if slow burns or enemies to lovers are your thing!
Also, this series has been optioned for a TV series by the Jim Henson company! And if that weren't enough for you, this series is going to be looong. With books 1 & 2 already released and the 3rd coming out in about a week, there is also a novella told through a diary that takes place a year before the first book happens and it is filled with so many awesome Easter eggs, foreshadowing and world building! It hasn't been announced, but there is supposedly going to be 6+ books in this series. At the very least, there will be more than 4, not including the novella.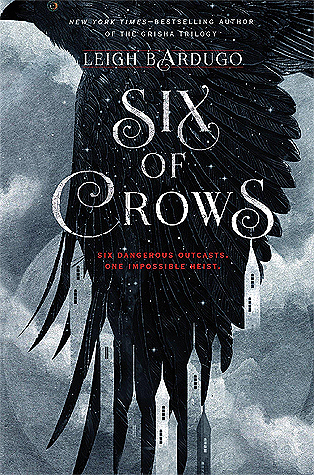 Six of Crows is a duology set in the Grishaverse which is a universe created by Leigh Bardugo that started in her first series, the Shadow and Bone trilogy. You don't have to have read the trilogy in order to read this duology, although it does help with world building and some former characters make some appearances in the Six of Crows series! Six of crows is an anti-hero series with diverse characters in terms of race and sexuality. (And if you're looking for a teen character who isn't you're average skinny heroine, then you are in luck because Nina Zenik exists and she is wonderful.) This series is also told through multiple POVs, and is is beautiful to be inside these character's heads.
And again, this series (and the former trilogy) have been picked up by Netflix for a show that will combine the two series, and will definitely have 8 episodes per season and more than one season! You aren't going to want to miss this, because Six of Crows is such a dark series that I know Netflix will do it justice.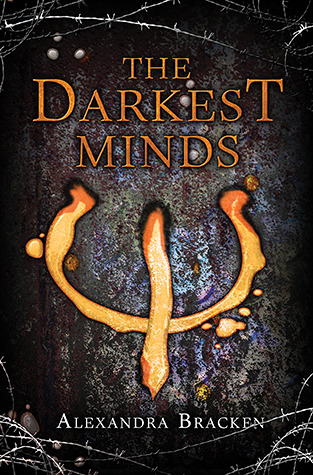 The Darkest minds is a story about a girl trying to fight for her freedom and figuring out who she is along the way. Told through an apocalyptic lens where kids have super powers and are sent to concentration camps for "rehabilitation", 4 kids manage to escape and find each other while they are on the run from the government and bounty hunters on their way to a mythical safe haven. This series is a trilogy with a bind up of short novellas and a book with the same characters set about 5 years after the events of the last book. This book isn't as diverse sexually as it is racially, but is still a heart stopping series that will definitely keep you on your toes and rooting for the heroes. There is death, there is heart break, there is romance, and there is a cliff hanger so make sure that if your book club reads this, you have the second book on hand! When your group has finished this book, make sure you watch The Darkest Minds movie! There are small changes throughout, but for the better and you'll love it. Especially being able to hear Liam's accent *heart eyes*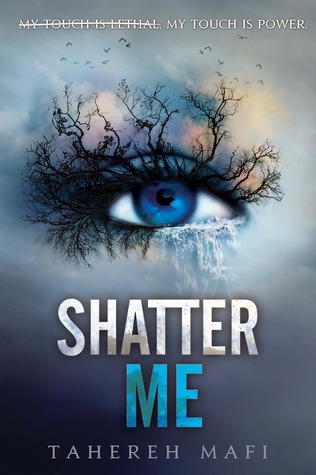 This book follows a girl who kills anyone she touches. She has been locked in solitary confinement at a mental hospital in a world that's slowly dying and ruled cruelly. Then she is recruited by the commander of her sector to kill for him, and that's when she starts plotting her escape. There is the classic trope of a love triangle, there are cliche "coincidences" and a lot of metaphors, but is still a very fun and entertaining series that will have you wondering what happens next. There is not a lot of sexual diversity or racial diversity, but there is some. This series is a good beginning dystopian.
And now, the series is being continued! There is a new spin off trilogy being written (the second book comes out spring 2019) that takes place about two weeks after the last book in the original trilogy ends, and there are short novella's between each book that is released! Some of them are in a bind up, but not all of them. Some are in the back of the kindle and paperback edition of Shatter Me, and they are all available on the kindle for a few dollars each.
This book is phenomenal. Pitched at The Breakfast Club meets murder, is goes through 4 POVs which makes you suspicious of everyone. One of them is a killer, right? 5 students walk into detention, and only these 4 walk out. Relationships form, characters grow into who they really are, and unlikely allies rise to the surface of this group. This book has two LGBT+ characters (one of whom is a main character) and one explicitly mentioned POC (who is also a main character)
People have likened this book to Pretty Little Liars and Riverdale, so if you liked those then you might enjoy this! This book has it all. Murder, Kissing, Cheating, Gossip and so much more. (This was also optioned for film!)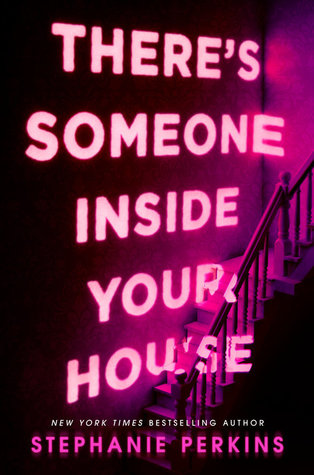 If your book club is looking for the perfect spooky fall/Halloween book, then look no further. Set in the small town know for corn fields, there is a murder on the lose killing seemingly random teenagers in the local high school. This one has plenty of diversity, including a trans character and a Half Black/Half Hawaiian Main Character (MC), and it's awesome. You have three central plot points in this book. The gruesome murders of high school students, The mysterious backstory of the MC, and who is that strange boy with pink hair? Can the MC and her two best friends trust him?
This book is fast paced and more graphic than other books on this list. It does have sex scenes (not explicit, but there) and details of the murders. The main POV is from the MC, but there are the occasional POVs from the Murder Victims and even a few from the killer themselves. It is a really engrossing book, and though the ending is horrific and sad, it also leaves you to wonder what could have been. The perfect book for October.
These next two books are very powerful, poignant books that I think everyone should read, no matter their age, race or sexuality. They tell a very important story about the lives that some if not most POC have to live, and while each story isn't what every person has to deal with, it does sum it up nicely and give you insight one what is happening. Each book have (obviously) POC and while there is no LGBT+ representation, that's because this isn't the story where that needs to be told. These are stories for Black and Muslim girls & boys.
THUG is one of the most powerful books in today's YA literature. So many discussions have happened, so many peoples lives have changed because of this book. It's beautiful. This book follows a girl in search of for revenge for her friend who was killed by a white cop while the boy was unarmed. The cop gets off free, and everyone else is left to pay for the consequences. The MC has to deal with her life in The Projects and her almost entirely separate life in a high end boarding school with only one other black person. She has to deal with the passing comments about her and other black people, she has to deal with people who are just using the death of her friends to get off from school, she has to deal with internalized racism from two of the people closest to her; her best friend with her racist comments and her father who doesn't approve of the MC dating a white person. While navigating all of this she is also learning how to stand up for herself, stand up for her family, for her people, and everything she believes in.
This book was recently turned into a movie and also happens to be the second book on this list with a movie that stars Amandala Stenberg as the Main Character. (The other movie is The Darkest Minds. If you're looking for other YA adaptations she has been in, check out Everything, Everything (a contemporary romance) and The Hunger Games (Little Rue!) )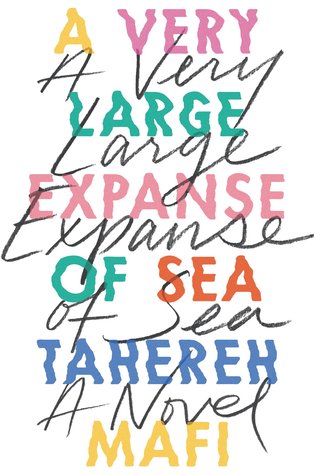 This book is a very topical book in today's America. It follows a Muslim teenage girl one year after 9/11 takes place. It shows what the author herself went through during that time period, such as the horrible hate crimes, the blatant racism people show, and even break dancing with her brother. The MC lives her life constantly moving with no friends, so she decides to cut herself off from the world and just make it by. When she is paired with a boy named Ocean in biology to dissect a dead cat she starts opening up her life to others, because maybe her life isn't the greatest right now, but it could be better if she didn't close her self off to the opportunity of happiness. She has to deal with the racism thrown her way when she starts a relationship with a white boy and she decides that joining her brother's break dancing crew could help her, both mentally and physically.
This book honestly deserves to be the next The Hate U Give, and not in a way that everyone just forgets abut that book, but in a way where it joins THUG on the podium.
Just know that I didn't do either of these books nearly enough justice, so definitely check them out and see for yourself.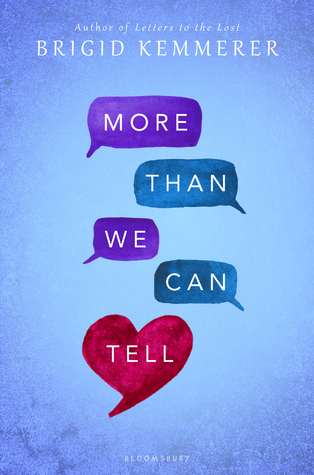 More Than We Can Tell is a complicated book to describe. It's got a plot like a Venn Diagram, while the middle is where the two MCs path's intersect. Emma is a girl into computers and coding. She even built her own game from scratch that hundreds of people play, but when you're a girl in gaming, the trolls come out to play. She starts getting pretty severe threats that give her anxiety, but on top of that she has to deal with her parents fighting and the impending divorce. So she takes her dog on a walk through the neighborhood. Rev is a boy with a traumatic past that he doesn't really care to talk about. Just know he had an abusive father he hurt him both mentally and physically, and now he lives with his adoptive parents who also happened to be foster parents. When he receives a letter from his past, he doesn't know what to do with himself. So he takes a walk through the neighborhood.
When Rev and Emma meet, they find solace in the fact that they aren't alone in their problems and they decide to keep meeting behind the church to talk, eventually exchanging numbers. They help each other move on from the past and help each other in the present, and even maybe perhaps start seeing something in each other. The end is super exciting and gets your heart racing, just wondering what is going to happen! This is definitely a book that needs trigger warnings for Rev's and Emma's story. There are mentions and descriptions of abuse, mental abuse, anxiety, prison, church, divorce, internet trolls and online predators. This book also uses some pretty strong language at one point in a message that a troll sent Emma, so be warned.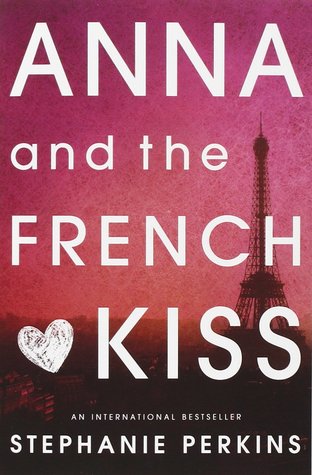 Anna and The French Kiss (Anna, Lola & Isla, Book 1) by Stephanie Perkins
This is one of those series that revolves around different characters each time, but old characters make appearances in the new books. They can totally be read out of order if you don't care about spoilers for previous characters, but real talk for a quick second: these are love stories. Everyone knows that the love interests already end up together when they start the book, so it can't be that much of a spoiler right?
These books are super cheesy and a bit cringe inducing at times, but they are book that won't leave your head days after reading them. The characters have actual problems in their relationship, and it's refreshing to see. Plenty of kissing with lots of European and American boys, backdrops of Paris, San Fransisco and New York respectively, and so lot's of interesting hobbies! Baking, sewing, figure skating, drawing, movies, etc. It's a very captivating series. I read them in order of Book 2, Lola and The Boy Next Door, book 3, Isla and The Happily Ever After, and book 1, Anna and The French Kiss. I think it was perfectly fine to read them in this order, so if your library or bookstore doesn't have the book your looking for, you can always just pick up one of the other books in this series!
These haven't been optioned for anything (That I know of), but if you like these books then you will almost definitely enjoy the To All The Boys I've Loved Before series by Jenny Han and accompanying movie on Netflix! The Anna, Lola and Isla trilogy have not a lot of diversity and some LGBT+ rep in Lola, but that's about it. It's not great for diversity points but these books are pretty nice feel-good books, and perfect for February!
Illuminae (The Illuminae Files, book #1) by Amie Kaufman and Jay Kristoff
This book is the epitome of Sci-Fi. The first book in this trilogy follows the two main characters, Kady and Ezra. Their planted got attacked and invaded, leaving them some of the only survivors who escape on a spaceship towards the other end of the galaxy and hopefully the worm hole where they will be able to outrun their pursuers. But the A.I. onboard the spaceship has other ideas for them. The second books revolves around two new characters, Hanna and Nik. They tell their side of the story from the worm hole, where they are stationed. The third book introduces us to our final two characters Asha and Rhys and all six meet/reunite to help save everyone and everything they've ever known.
This series had my heart racing, palms sweating and mind blown the whole time. I was so enthralled that I forgot to eat and sleep at some points. My family didn't see much of me. But it was so worth it. I can't get over how amazing these books are.
Also, the fact that I won the chance to be "killed" in the third book doesn't hurt my love for this series. I was thrown into a pit with thousands of other dead, and I don't regret it. Amie Kaufman and Jay Kristoff killed me in their book, and it was awesome.
A Darker Shade of Magic (Shades of Magic, Book #1) by V.E. Schwab
This series has a separate plot point in each book but everything still flows together cohesively. The first book starts off with the MC Delilah "Lila" Bard pick-pocketing the other MC, Kell. She ends up with a black rock. Kell tracks her down after being badly wounded, so Lila ties him to her bed and keeps him hostage until he tells he what's going on, and it leads into multi-dimensional travel to save all 3 of the other dimensions. The second book is about a magical competition that Lila enters on her own by masquerading as another competitor and Kell enters as a different person entirely, which leads nicely into the third book, of an evil entity that is hunting the streets of their London and killing citizens.
V.E. Schwab has also written a graphic novel/comic series that is a prequel to this series (which you should probably read after you've read the Shades of Magic trilogy) and Schwab is currently working on an epilogue trilogy to the Shades of Magic trilogy that will be based around new characters but our old favorites will make appearances (If they survived…)
I recommend these book to anyone looking for a fantastic series to binge! Lila is a cross-dressing pirate whose charms include stabbing, sarcasm and rushing head first into trouble. I love her so much. You will as well.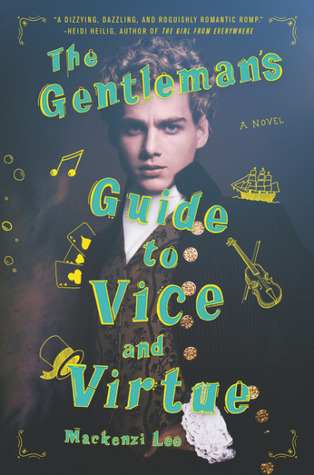 The Gentleman's Guide to Vice & Virtue by Mackenzi Lee
This is a LGBT+ story about Monty, a bisexual Disaster ™, Percy, a black boy with an ailment, and Felicity, Monty's younger sister on their adventures across Europe and Spain before Felicity goes to finishing school, Percy goes to a boarding school, and Monty goes home to learn how to run the family business! There are pirates, magical objects, pining, jail, theater, and romance!
This book has won the Stonewall Honor award and was nominated for the Kirkus prize. It also has 5 starred reviews. This book is a big deal and even better is it's companion novel, The Ladies Guide to Petticoats and Piracy which stars Felicity! It is also LGBT+ as Felicity is revealed to be Ace, and though I have not read it yet, my sister has and gave it 5 stars! If your club read and loved Gent's Guide, then Ladies Guide should be added to your list! (It was also just announced that the short story that was the pre-order incentive for Ladies Guide will be published in Hardback, and the audio book will be bringing back the same voice actor for Monty as the first book!)
Hamilton & Peggy: A Revolutionary Friendship by L.M. Elliot
If you're like me and obsessed (still) with Hamilton: The Musical and wanting to learn more about Schuyler Sisters, then look no further! This book focuses on Peggy, the youngest sister and how her efforts helped the war! It is a very detail oriented story so there is a lot of history, but I loved it. I think if you liked Melissa De LaCruz's Alex & Eliza trilogy then you will like this book! Now I'm just waiting on my Angelica series… This book included more of Angelica's history (Like her elopement) but there wasn't nearly enough Angelica IMO. Yes, I know it's Peggy's book. I'm just sayin'.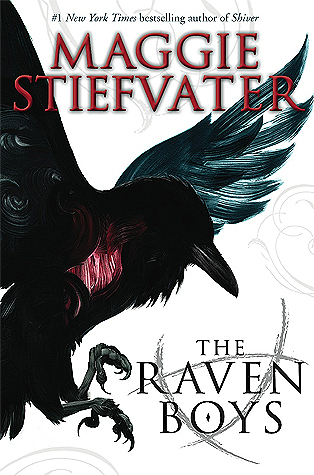 The Raven Boys (The Raven Cycle, book #1) by Maggie Stiefvater
This series is very hard to describe but I will do my best. Maggie Stiefvater has such a unique writing style that anything she writes is hard to describe the feeling you get while reading it, which is what makes it all that more magical.
The Raven Boys takes place in a rural Virginia town called Henrietta. In it lives four boys named Gansey (the boy on the hunt for a long dead Welsh king who he believes if he can find, he can bring back to life and he will grant Gansey a wish) Adam, the scholarship kid from an abusive home who spends most of his days with the other boys, is working three jobs so he can one day soon afford to move out and have his own place. Ronan, the dreamer with dangerous tendencies who is always eager to pick a fight, especially with his older brother. Buzz cut, angry sneer, loud sports car, he cares for nothing except maybe his friends. And Noah, the book described smudgy kid who is always cold, is always being told to eat, and kind of shows up when he likes. A very quiet kid. Then there's Blue, who throws their whole group dynamic into a tizzy. She is the daughter of a Psychic who has been told her whole life that if she kisses her true love, he will die. The setting is just as much of a character as the main characters are and I think that's what makes this book so magical and homey. Every time I read these books it feels like coming home (Which is why I am re-reading and reviewing the books for my blog!)
This is a series that anyone can enjoy, but there be warned there is descriptions of parental abuse, swearing, death, murder and bee allergies.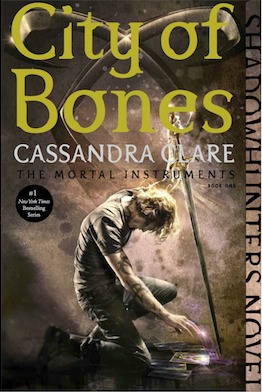 City of Bones (The Mortal Instruments, book #1) by Cassandra Clare
Getting into the Shadowhunter chronicles can seem daunting because there are so many books, and they're so big, but worry no longer! I am here to tell you a bit about the first book written in the Shadowhunter worlds, and I will be sharing some links from Cassandra Clare's site on the best order(s) to read her books in! I have also written a post on the best order to read all of her books and what her other books in the Shadowhunter Chronicles are! You can find the link at the bottom of this section about City of Bones.
City of Bones starts in New York with a girl named Clary and her best friend, Simon at a nightclub. Clary witnesses this trio of teens around her age take a guy into a back room and kill him. Clary freaks out (understandably) and the trio leader, Jace, gives her a hard time by telling her no one will every believe her. Days later, Clary has a fight with her mom and runs off to a poetry slam where she sees Jace again, but then she gets a disturbing call from her mom who sounds like she is in trouble. She runs off and gets to the apartment in time to find her mom gone and a monster in her place. She fights it off and passes out. When she comes to, Jace is there and tells her he has to explain some things to her. This is the start of a long and wild adventure with slow burns, love triangles, Demons, Fae, vampires and werewolves, a hidden world of hunters sworn to protect humans and so much more. The first series The Mortal Instruments, consists of 6 books. I have written a post about all of the other books in this world and when they take place & what they're about here!
Final Thoughts:
That's a lot of books! I hope you and your book club find this helpful, and if you read any of these, totally let me know! I'd love to hear your thoughts! Some of these authors may have discussion guides of their sites (I know Cassandra Clare does!) so make sure you look them up if you're going for a stricter outlined book club!
Happy Reading!
-Sam