I love when E-books go on sale. I have a Kindle with my library holding some 50+ books and most all were bought when books I liked/was interested in went on sale. (The exception being the Shatter Me series by Tahereh Mafi. I read the first one when I bought the first book on sale, and I needed to know what happened next so I bought the other two books in the trilogy + the two novellas. Pro tip: the novellas come included with the books. Don't waste your money like I did if you don't have to. Unless of course you want to support the author, then which by all means, go make your library look pretty and full!)
I subscribe to email notifications from sites like Book Bub and Book Riot who send me emails when there are e-book deals I may enjoy! Today's emails included tons of awesome deals, so I wanted to share them with everyone here! If you know of any other awesome deals I'm forgetting, let me know!
The Deals
Shatter Me by Tahereh Mafi! That's right, the first book in the series is on sale for $1.99 (USD) from Amazon Kindle!
Why you should purchase this book: This book series is a bit like Cassandra Clare's Mortal Instruments series in the way that it was originally a trilogy, but then Cassandra Clare wrote three more books that continued the series. The 5th book in the Shatter Me series was just released on Tuesday and there is one more book left, so if you want to join this fandom and world of badass characters in time for the final book, now would be a great time to start!
Defy The Stars by Claudia Gray! The first book in the newly completed trilogy is on sale for $1.99 (USD) from Amazon Kindle!
Why you should purchase this book: This book is captivating and thrilling take on Robots v. Humans (In outer space!) If you liked The Illuminae Files then you will probably enjoy this book. Possible slow burn, sweet characters, exciting adventures, exploring the galaxy, a futuristic Earth and a rag-tag team of bandits! This books has it all and I adore it, and I think you will to.
It's Not Like It's A Secret by Misa Sugiura! This Lesbian coming-of-age love story between two teen girls in California is on sale for $1.99 (USD) on Amazon Kindle!
Why you should purchase this book: This book is advertised as perfect for fans of Jenny Han's To All The Boys I've Loved Before & Becky Albertalli's Simon VS. The Homo-Sapiens Agenda! It's about a girl who finds out her father is having an affair in the middle of her family moving. She falls into this friend crowd who doesn't seem to like her but one boy, and he seems t like her. She also falls in love with a girl but she doesn't know how to tell everyone with all the other stuff that's going on. I personally have not yet read this, but I want to!
Georgia Peaches & Other Forbidden Fruit by Jaye robin Brown! A lesbian romance advertised as perfect for fans of Julie Murphy's Dumplin' and Becky Albetalli's Simon VS. The Homo-Sapians Agenda is on sale for $1.99 (USD) from Amazon Kindle!
Why you should purchase this book: Another lesbian romance novel on this list! It's about an out and proud girl who moves to a very conservative Georgia town and is asked by her father to "lay low" for her senior year, which that is proving to be difficult when she meets Mary Carlson, who she may or may not be falling for. Who might even like her back. I again have yet to read this book, but I really want to and I've even met Jaye! She is the sweetest and I would love to support her more!
Lets Get Lost by Adi Alsaid! This story about a groups of teen who find what they need through one girl who crashed into their lives quite unexpectedly is on sale for $0.99 (USD) from Google Play Books!
Why you should purchase this book: Reminiscent of Paper Towns by John Green, this book is about 4 teens whose lives change in way they never could've imagined when a girl names Leila crashes into their lives. Their lives are changed forever again when she leaves them, but Leila is realizing that sometimes the best way to figure out what went wrong is to go back to the beginning and start again. I have yet to read this, but it sounds fantastic and I definitely want it in my digital library!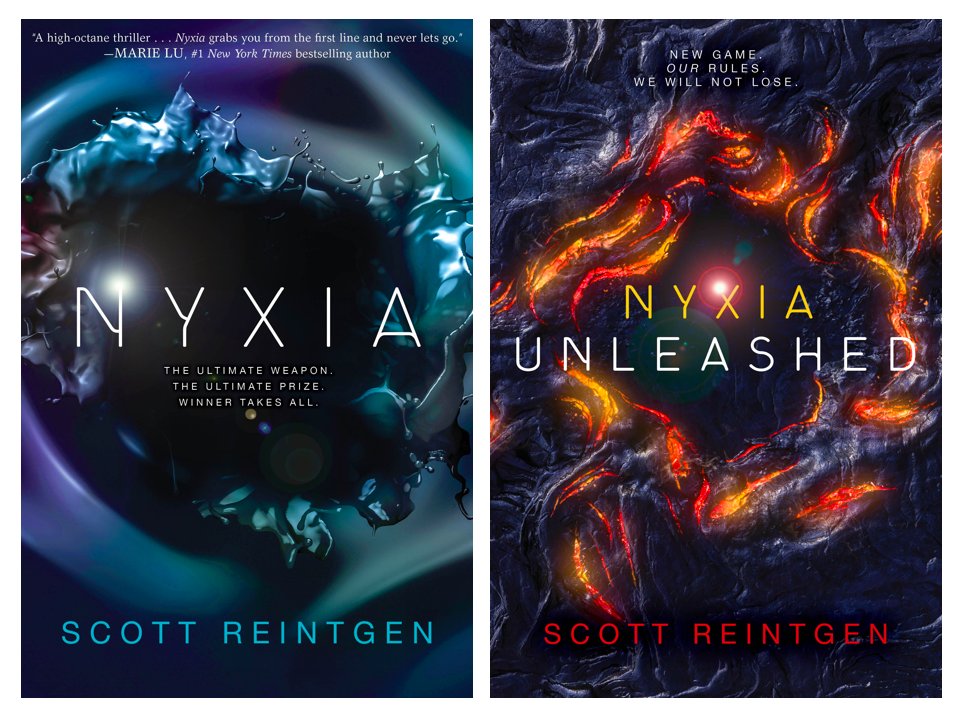 Nyxia and Nyxia: Unleashed by Scott Reintgen! The first two books in this outer space set fantasy are on sale for $1.99 (USD) each from Amazon Kindle! Book #1 & Book #2 can be found at those links.
Why you should purchase these books: The Nyxia Triad is almost at an end, with the final book in the trilogy coming out April 16th! This series is diverse, has an exciting and futuristic plot, and a group of kids who will do a lot to get what they need. I have also yet to read this series, but I am looking forward to doing so! Scott is awesome and I can't wait to see what he has planned after this series.
Red Rising by Pierce Brown! This sci-fi story set on Mars in a society that lives through a hierarchy that launches a rebellion is on sale for $5.99 (USD) from Amazon Kindle!
Why you should purchase this book: For fans of The Hunger Games by Suzanne Collins, Red Rising is a series about a group of people living in the lowest chain of the hierarchy that works in the mines on Mars hoping to make it livable on the surface for future generations, only to find out they've been betrayed. The surface has been livable for centuries, and these rebels have been nothing more than slaves for the high ruling society that lives above. They send in a spy to infiltrate the top to start planting the seeds for a take-down, and this rebellion is only just the beginning.
The Fever King by Victoria Lee! This Amazon First Reads pick about sickness induced magic and rebellion is on sale for $4.99 (USD) from Amazon Kindle!
Why you should purchase this book: If you're looking for a new series to read that has rebellion, magical powers, LGBT+ romance, diversity and high stakes then look no further than here. The Fever King has it all, and you will be wishing you could have the second book in your hands immediately!
I was a part of the The Fever King blog tour where I got to interview Victoria Lee and share an never before seen short story about two of the characters form this book, so when you're done with this you should go check that out!
Geekerella: A Fangirl Fairy Tale by Ashley Posten! This fun retelling of Cinderella meets romance in Cosplay is on sale for $1.99 (USD) on Amazon Kindle!
Why you should purchase this book: This modern day retelling of Cinderella takes place at Comic-Con, involves a contest for the best cosplay of a very popular TV show turned movie. When Elle's stepsisters decide they want in as well, the stakes are high if she want's the opportunity to win a once in a lifetime meet-and-greet with the star of the show, Darien, who is slowly losing his love and passion for Comic-Con, cosplay and the famous-ness of it all until he meets a girl… This novel is a homage to all things nerdy while still being a sweet contemporary, and who doesn't want that?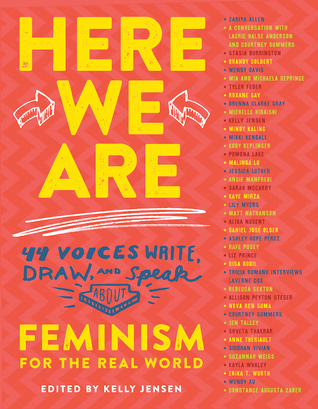 Here We Are: Feminism For The Real World anthology edited by Kelly Jensen! This anthology about feminism and what it means to be a feminist is on sale right now for $1.99 (USD) from Amazon Kindle!
Why you should purchase this book: This anthology is complied of essays and drawings from 44 different people from all types of backgrounds and hobbies who talk about what it means to be a feminist to them from their diverse perspectives, how to be a feminist yourself, and how to support other feminists in today's world.
Catwoman: Soulstealer by Sarah J. Maas! The third book in the DC Icons series from Sarah J. Maas is on sale for $1.99 (USD) from Amazon Kindle!
Why you should purchase this book: Sarah J. Maas knows how to write a kick-ass female lead, and this time is no different. Including girl gangs, pit fights reminiscent of Sarah's other series Throne of Glass, especially the MC Celaena Sardothien, and intense sister relationships, this is the origin story of Selina Kyle you won't want to miss.
Batman: Nightwalker by Marie Lu! The second book in the DC Icons series, following the success of Leigh Bardugo's Wonder Woman: Warbringer, is on sale for $1.99 (USD) on Amazon Kindle!
Why you should purchase this book: Following a young Bruce Wayne as he comes into his Batman Moniker as a newly minted adult, Marie Lu writes a fantastic origin story of Bruce Wayne! If you like Batman, then you'll love this unique Young-Adult take on his origin story.
All Out: The No-Longer-Secret Stories of Queer Teens Throughout The Ages anthology written by Queer Authors themselves and edited by Saundra Mitchell is on sale now for $4.49 (USD) from Amazon Kindle!
Why you should purchase this book: This book highlights stories about queer teens throughout the ages (as mentioned above), with Bisexual, Lesbian, Gay, Trans, Gender-fluid and more characters in sweet little novellas! Trans cowboys? Woodland Lesbians? Gay 1700's artists? There stories are magical, diverse and inclusive and you'll want to have this in your digital library.
Final Thoughts:
That's all I have for today, but I'll be back again with more deals in the future! Let me know if you buy any of these and what your thoughts were, I'd love to hear them!
-Sam