Long time, no post! Life got in the way of things, but I very recently fell down the very last stair and injured my ankle so I figured, I'm not moving around, why not read and post?
So here I am. I didn't read nearly as many books this month as I did last month, but I did still read a significant amount.

#1. Bloodwitch by Susan Dennard – 5/5 stars (Review) Goodreads Link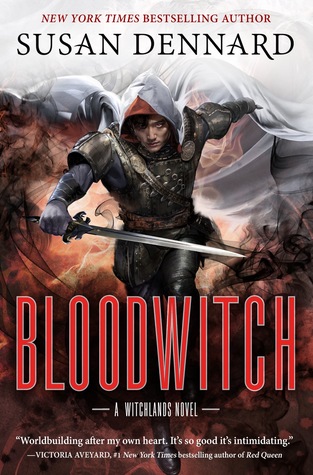 I had been waiting so long for this book, and it did not disappoint AT ALL. I got it early for winnig a giveaway and I got the first copy og Bloodwitch Susan ever signed (!) This book is so, so, so good. I was hooked on every page, every character arc, just everything. You need to read Sightwitch before this one (and obviously the first two books in the series), but other than that, GO READ IT. THIS SERIES IS SO WORTH IT. AEDUAN AND ISEULT FOREVER and then you can go read my susan dennard author week okay thanks bye
#2. The Sun Is Also A Star by Nicola Yoon – 5/5 stars (Review to come) Goodreads Link
I was lucky enough to find this on Libby at my library WITH NO WAIT LIST even though the movie comes out this year??? So I grabbed it and read it in one sitting. It instantly became a new favorite of mine, it was so good. I loved everything about it and I really cannot wait for the movie to arrive!
#3. Everything, Everything by Nicola Yoon – 3 stars Goodreads Link
I decided to pick this up after I had read TSIAAS and I'm glad I did, but I didn't enjoy it nearly as much as I did Nicola Yoon's other book. But I love Amandala Stenberg and Nick Robinson so I'll probably watch the movie (eventually) I thought this was a cutesy story until I got to the ending and then I got mental whiplash because it had turned into a thriller, sort of?? How had I not heard of this when the movie came out? You would think people would have been all over an almost cliff hanger like that.
#4. The Hate U Give (reread) by Angie Thomas – 5/5 stars Goodreads Link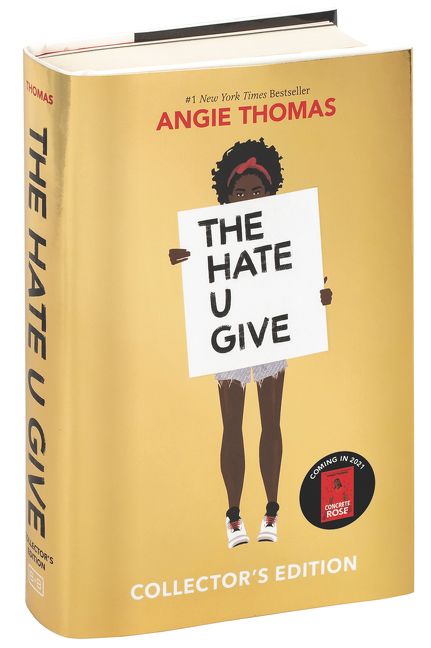 I reread this book because I love it and wanted to watch the movie, and because my copy of On The Come Up, Angie's second book, was about to arrive and I wanted to get back into Angie's writing style and world so I could jump straight into it! I still loved it just as much, and I really want to watch the movie even more now.
#5. On The Come Up by Angie Thomas – 4/5 stars Goodreads Link
I didn't love this book as much as I loved THUG, but I did love it. Bri is amazing. Some might even say… Brilliant… I liked that I was able to relate to the poorness factor (not of the same level as Bri, but I have had to use food stamps and worry about if we get electricity and food, etc.) I loved her raps and honestly I love nothing more than to hear them sung. Also, who tweeted her?!? My guess is either Beyonce, Nicki Minaje or Cardi B.
#6. Starflight by Melissa Landers – 3/5 stars Goodreads Link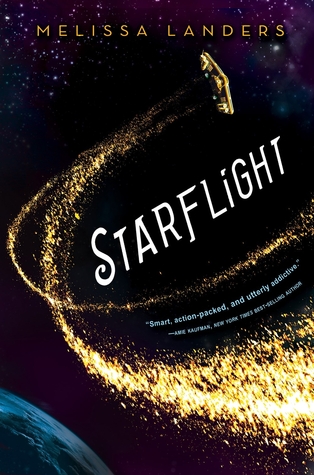 I got this years ago when it was first released as a book in my Uppercase subscription box, but I had never read it until now, and I really only read it because I wanted to trade it for something else on Twitter's #booksfortrade tag but I didn't want to get rid of it without reading it because what if I loved it? What if it became a new favorite of mine, and I had traded it away KNOWING IT WAS SIGNED?? So I read it and while I didn't love it, I didn't hate it either. So.
#7. Small Potatoes by Sarah Hunt – 5/5 stars (Review to come) Goodreads Link
So. Some backstory. Last year, my sister turned me onto this murder podcast called Small Town Murder. She always described it as " they need a warning at the front to let you know it's a comedy podcast" and I figured if I need a warning, why bother? But she is my twin, and we have pretty similar tastes so I started listening to it and devoured the whole thing within the year. I'm working my way through their other crime podcast, Crime In Sports now but that's a whole 'nother thing. Anyways, I started following the hosts on Twitter and my sister apparently followed one of the host's wife, Sarah Hunt. Sarah happened to write a little book called Small Potatoes. Sarah was looking for book bloggers and reviews to read and review her book. My sister tagged me in the post, and I contacted Sarah about reviewing her book. Sarah sent me a copy of her book so here we are! I read it in about 30 minutes because it's that short, but I related to a lot of it and now I love Sarah. I want to meet her one day. And I guess James and Jimmie, but they come second to Sarah in my book. (Did you see what I did there?? ;p)
#8. The Distance Between Us by Kasie West – 4/5 stars Goodreads Link
As you may have heard already if you follow me on Twitter or Instagram, I am about to move to a new state this spring. We already have the house and we're slowly tranfering all of our stuff to the house. When I went and visited the house a few weeks ago, I took a walk and discovered a Little Free Library about a block from the new house! This was the only thing I was interested in reading, so I took it and replaced it with some magazines. I started it that night, and got to about chapter 5 before I put it down for a few days. I was having such vivid dreams about this book and how it might end. In each dream, it turned from contemporary romance into YA thriller. It was pretty epic/funny. But I finally finished it and I had a lot of fun reading. I'm willing to give some of Kasie's other books a shot!
#9. The Fever King by Victoria Lee – 4/5 stars (Review to come) Goodreads Link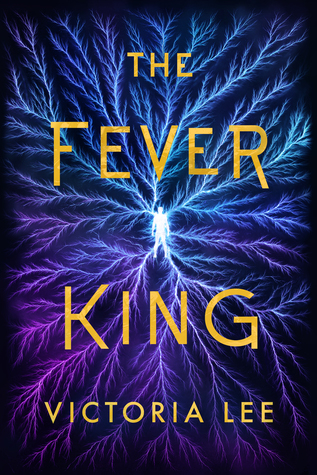 This book is being offered as an Amazon First Reads for the YA section, and you get to keep it after the date for downloading it passes! I have heard a lot of good things about this book, so I downloaded it and loved it! I was able to guess some of the things that happened and this book dealt with some pretty heavy stuff but I still loved it. Plus, I am an official member of the The Fever King blog tour! My interview (!!!) with Victoria will be going up on my blog March 23rd! Make sure to come check it out!
#10. The Devouring Gray by Christine Lynn Herman – 5/5 stars (Review to come) Goodreads Link
This book is one of my new favorite books, ever. This is the one that started to inspire me for maybe someday writing my own book??? Which if you told 11 year old Sam that she would have asked to have the real Sam back because when I was 11 I would cry at the thought of having to write a 3 paragraph paper, and now I have a blog and the thoughts of writing a whole book?? Anyways this book had everything I love. LGBT+ rep, POC rep, Disability rep, broody and angst-y emo characters, magical demons, powers, epic battles, small town vibes, and mysteries???? And one of my favorite tropes ever (for some reason) a classical instrument played by the emo MC? Yes please. Give it to me now.
#11. Here There Are Monsters by Amelinda Berube – 3.5/5 stars (Review to come, hopefully?) Goodreads Link
I was so excited to get an e-arc of this book from Netgally because I adored Amelinda's first book, The Dark Beneath The Ice. She writes spooky stories so I was waiting until a little bit closer to publication to read this, because the pub date is closer to fall aka spooky season but I couldn't wait any longer. I did read this in one sitting after dinner last night, but man was this book f*cked up. This story was such a mind twisting freaky story about manipulation and monsters and death and torture and just. Wow. If that's what you're into when reading a book, then this should get added to your Fall 2019 TBR. What starts out as a missing persons case turns into so much more.
#12. We Are Okay by Nina LaCour – 5/5 stars (unsure about a review)
I read this late on the last night of February because The author, Nina LaCour, would be at Quail Ridge the following night and I wanted to know what she wrote before I went. I ended up loving it. It actually made me cry at the end. I had her sign it with my favorite quote from the book! She was super nice, and read passages from both of her books (she was on tour to promote the new covers for her paperbacks)
And that's all I read! I realize I'm posting this before February is over, but I sincerely doubt that I will read another book tomorrow. This post was brought to you by the entire Jonas Brothers discography because THEY ANNOUNCED THEIR COMEBACK TODAY AND I AM NOT READY FOR THIS. NICK 4 EVER < 3
Since no one asked, here are my fave JoBro songs:
Year 3000
Paranoid
Lovebug
SOS
Burnin' Up
Goodnight and Goodbye
Hey Baby
Video Girl
Kids Of The Future (yes I know it's a cover NOW, but I didn't when I was 6)
When You Look Me In The Eyes
anyways catch me crying on the floor at midnight est february 28th 2019 because the Jonas Brothers released a new song (sucker)